Quick Draw Poker: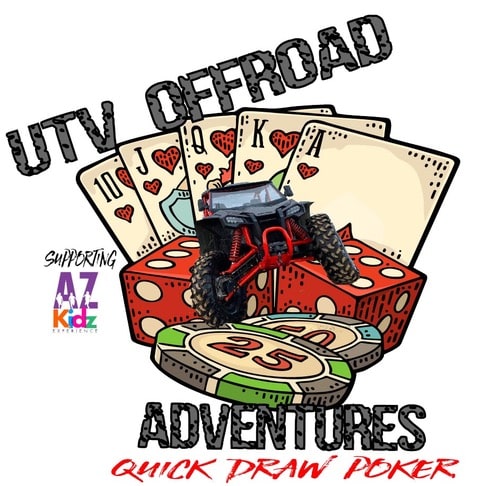 UTV Offroad Adventures Quick Draw Poker Rules (Poker Run):
During all UTV Events you have the option to play Quick Draw Poker. The cost is $20 per hand.
All cards will be picked up at the designated locations. Players will not be allowed to pick all envelopes at one location. Exceptions can be made for valid reasons such as your car broke down.
There are additional surprises in some of the envelopes with the cards. You never know what you might win!
Cards will be picked up one card at a time, in a sealed envelope. Do not OPEN the envelope. If you open an envelope, that card will be disqualified and you will need to pick a new envelope. All envelopes will be opened the Saturday night at dinner.
No duplicate cards can be used. At the time the cards are opened if there is a duplicate you will be allowed to pick a new card.
If playing MORE than one hand, the participant must present a second Poker Run for each hand. You receive a tally sheet at the time of check in for each hand purchased.
In case of a tie, there will be a draw for the High Card to determine the winner.
Participants MUST BE PRESENT to receive any winnings, winnings are 1/3 of the final pot. Proceeds raised from this Quick Draw Poker Run will be donated to AZ Kidz Experience Charity.
All decisions made by Poker Hand Judge are FINAL!